30 April, 2012
Struffoli (italian Honey Cookies)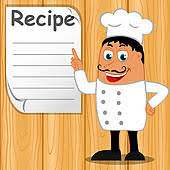 Posted in :
Cookies
on
by :
admin
Ingrients & Directions

3 lg Eggs
1 tb Butter
1 ts Plus 1/2 cup sugar
2 c Unbleached sifted all
-purpose flour
1/2 ts Baking powder
1 c Honey
Flour for dusting
Oil for frying
Colord sprinles
Here is the recipe,unfortunately not TNT, but from one of my favorite
cookbooks: "Ciao Italia" by Mary Ann Sposito
In a bowl,whisk together the eggs,butter,and 1 t sugar until foamy. Sift
the flour with the baking powder and stir into the egg mixture.With your
hands work the mixture into a soft douhg. Divide the dough into 4 pieces.
On a floured surface,roll ea piece into a rope about the width of your
index finger and 12″ long. Cut the ropes into 1″ pieces.
Toss the pieces with enough flor to dust them lightly, and shake off the
exces flour.
In a deep fryer, heat the oil to 375 . Fry the struffoli a few handfulls at
atime, until puffed up and golden brown.
Tranfer with a slotted spoon to brown paper to drain.
In a large saucepan, combine the honey and the 1/2 cup sugar and heat over
low heat, stirring until the sugar is dissolved,Keep warm over low heat.
Add the fried balls a little at a time, and turn them to coat all sides.
Transfer them to a large plate and mound them into a pyramid shaping it
with wet hands.
Sprinkle with the colored sprinkles and let stand 1 to 2 hours. Break
pieces with your hand to eat.
Yields
1 Servings