31 December, 2012
Winkler Sugar Cookies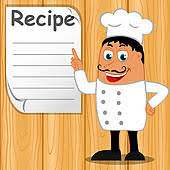 Posted in :
Cookies
on
by :
admin
Ingrients & Directions

3/4 lb Butter
4 1/2 c Sugar
5 Eggs
5 c Flour
1 ts Cream of tartar
1/2 ts Salt
1/2 ts Baking soda
1/2 ts Nutmeg
1 ts Vanilla
1 ts Lemon extract
1/2 ts Almond extract
Date: Thu, 12 Aug 93 09:33:35 +0200
From: hz225wu@unidui.uni-duisburg.de (Micaela Pantke) (COLLECTION)
lafauss@aplcen.apl.jhu.edu (Laura Faussone) (makes approx. 8 dozen) Cream
butter and sugar in a large mixing bowl. Add eggs one at a time. In a
separate bowl, combine flour, cream of tartar, salt, baking soda and
nutmeg. Beat extracts into butter mixture and gradually incorporate flour
mixture, blending thoroughly. Place dough in greased bowl and refrigerate
overnight. Before baking, preheat oven to 350F. Roll dough out on floured
pastry cloth. Cut with cookie cutters and bake on greased cookie sheets for
10-15 minutes until golden brown.
REC.FOOD.RECIPES ARCHIVES
/COOKIES
REFRIGERATE DOUGH OVERNIGHT
From rec.food.cooking archives. Downloaded from Glen's MM Recipe Archive,

Yields
96 Servings