28 February, 2013
Cranberry Oatmeal Cookies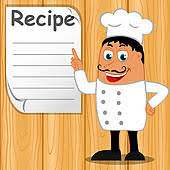 Posted in :
Cookies
on
by :
admin
Ingrients & Directions

2/3 c All purpose flour
1/2 ts Salt
1/2 ts Baking soda
1/2 c Old-fashioned rolled oats
1 1/2 sticks (6 ounce.)
Unsalted
Butter, softened
2/3 c Granulated sugar
2/3 c Light brown sugar
1 lg Egg, lightly beaten
1 ts Pure vanilla extract
2 c Pecan pieces (about 8
Ounce.)
2/3 c Dried cranberries (about 4
Ounce)
1. Preheat oven to 350 degrees. In a small bowl, whisk together the flour,
salt and baking soda. Stir in the oats. In a medium bowl, using an electric
mixer, cream the butter with the granulated and brown sugars until light
and fluffy. Add the egg and beat until thoroughly incorporated. Scrape down
the sides with a rubber spatula and beat for another
30 seconds. Using the spatula, fold in the flour/oatmeal mixture
until completely incorporated. Mix in the pecans and cranberries.
2. Line 2 cookie sheets with parchment paper. Form the mixture into balls
about 1-1/4 inches in diameter. Place the balls about 3 inches apart on the
cookie sheets.
3. Bake the cookies for 10 – 12 minutes, or until golden brown and lacy.
Let cool completely on the cookie sheets. Using a metal spatula, transfer
the cookies to a plate. The cookies will keep for up to 1 week in an
airtight container, or one month in the freezer. Makes about 4 dozen
cookies.

Yields
48 Servings