28 August, 2013
Decadent Chocolate Chip Cookies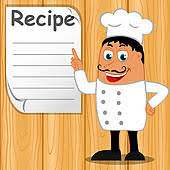 Posted in :
Cookies
on
by :
admin
Ingrients & Directions

2 1/4 c Flour
1 ts Baking soda
1 ts Salt
1 c Butter; softened
1 c Sugar
1/2 c Brown sugar
1 ts Vanilla extract
1 lg Egg
2 c Chocolate chips or chocolate
-chunks
1 1/2 c Nuts; chopped (optional)
Combine flour, baking soda and salt in a small bowl. In a large bowl, cream
together the butter, sugar and brown sugar, then blend in the vanilla
extract and eggs. Next, mix in the flour mixture and then add your choice
of chocolate chips or chunks and nuts. (This mix should be very chunky and
thick.) Scoop the cookie dough onto a cookie sheet with a large ice cream
scooper, dipping the scoop in water between uses to prevent sticking. Bake
on an ungreased cookie sheet at 350 degrees for 12 to 18 minutes.

Yields
1 servings