30 September, 2010
Speculaas (dutch Spice Cookies)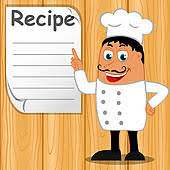 Posted in :
Cookies
on
by :
admin
Ingrients & Directions

200 g Self raising flour
1 1/2 tb Spice mix of your choice;
-(see note below)
125 g Soft brown sugar
125 g Butter or margarine
2 tb Milk; (40ml.)
Mix the flour, spices, sugar and butter together in a bowl with your
fingertips until the mixture resembles fine breadcrumbs.
Add the milk and stir it in then knead the dough lightly until a dough
forms. Wrap the dough in plastic and chill for 24 hours.
Alternatively, place all the ingredients except milk in a food processor
and process until they resemble fine breadcrumbs. With the motor running,
add the milk and process briefly until the mixture is moistened then remove
from the processor and knead briefly. Chill as above.
Roll out the dough and shape with cookie cutters then place on greased and
floured oven trays.
Bake at 150c. for about 20 minutes or until the speculaas are crisp and
golden brown.
Cool on wire racks then store in airtight containers.

Yields
1 servings