31 October, 2010
Toll House Cookies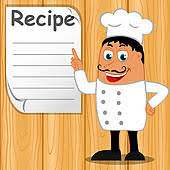 Posted in :
Cookies
on
by :
admin
Ingrients & Directions

1/2 lb Sweet Butter; Softened
3/4 c Granulated Sugar
3/4 c Dark Brown Sugar
2 Eggs
1 ts Vanilla
2 1/4 c Flour
1/2 ts Salt
1 ts Baking Soda
12 oz Chocolate Chips
Preheat the oven to 375 degrees. Cream the butter and both sugars until
light and fluffy. Beat in the eggs and vanilla. Stir the flour, salt and
baking soda together in a separate bowl. Stir the flour mixture into the
butter mixture. Stir in the chocolate chips. Drop the batter by the
spoonful onto ungreased cookie sheets. Bake for 6 to 8 minutes. Cool on
wire racks.

Yields
1 servings