30 November, 2010
Almond Butter Spritz Cookies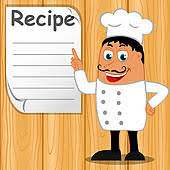 Posted in :
Cookies
on
by :
admin
Ingrients & Directions

1/4 lb Almond paste
1 1/4 c Confectioners' sugar
1/2 c Eggs; (2 large eggs and 1
; yolk, usually)
1/2 lb Unsalted butter; softened (2
-sticks)
3 c Cake flour
Line two or three cookie sheets or jelly roll pans with parchment
paper or foil. Set racks on the top and lower thirds of the oven and
preheat to
325 degrees F.
In a bowl, soften the almond paste with the sugar and half of the
eggs. Beat in the butter gradually, then gradually add the remaining
eggs. Cream all of the ingredients until light. Add the flour all at
once and mix until all the elements adhere. Do not over mix.
Pipe 1/2 inch shapes onto the prepared pans with a 1/2 inch star tube
(Ateco 4). Bake for about 15 minutes. Cool on the pans
Yield: about 72, 2 inch cookies

Yields
1 servings