28 February, 2011
Chocolate Mealworm Chip Cookies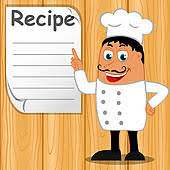 Posted in :
Cookies
on
by :
admin
Ingrients & Directions

2 1/4 c Flour
1 ts Baking soda
1 ts Salt
1 c Butter; softened
3/4 c Sugar
3/4 c Brown sugar
1 ts Vanilla
2 Eggs
1 Bag Chocolate chips -; (12
-oz)
1 c Chopped walnuts; (optional)
1/2 c Dry-roasted mealworms
To prepare dry-roasted mealworms, first drop them in boiling water
for one minute. Next, drain them on a paper towel. Finally, bake
mealworms at 200 degrees for one to two hours, depending on the size.
When cooked, mealworms can easily be crushed with a spoon. Preheat
oven to 375 degrees. In a small bowl, combine flour, baking soda and
salt; set aside. In a large bowl, combine butter, sugar, brown sugar
and vanilla. Beat until creamy. Beat in eggs. Gradually add flour
mixture and insects, mixing well. Stir in chocolate chips and nuts
(optional). Drop by rounded teaspoonfuls onto ungreased cookie sheet.
Bake for eight to ten minutes.

Yields
1 servings