31 March, 2011
Cookies In Syrup (sheqerpare)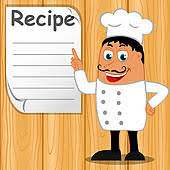 Posted in :
Cookies
on
by :
admin
Ingrients & Directions

2 c Sugar
3/4 c Butter; softened
2 Egg yolks
2 c Flour
1/4 ts Baking soda
3/4 c Water
1/4 ts Vanilla extract
2 Whole cloves -; (to 3)
Mix 1 cup sugar and butter in bowl. Add yolks and stir until smooth.
Add flour and baking soda and stir until soft dough forms. Roll out
dough. Cut into 2-inch rounds. Place on baking sheets and bake at 350
degrees until pale gold, 20 minutes. Meanwhile, make syrup. Bring
remaining 1 cup sugar and water to boil in saucepan and cook until
syrup spins a long thread, 10 to 15 minutes. Remove from heat and
season with vanilla and cloves to taste. Remove cookies from oven
when golden and cool. Pour hot syrup over cookies. Serve at room
temperature. Yields about 30 (2-inch) cookies.
Each cookie: 124 calories, 48 mg sodium, 31 mg cholesterol, 5 grams
fat, 19 grams carbohydrates, 1 gram protein, 0.02 gram fiber

Yields
30 servings