31 May, 2011
Cranberry Oatmeal Cookies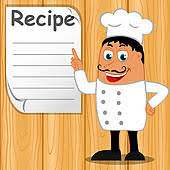 Posted in :
Cookies
on
by :
admin
Ingrients & Directions

1 c Flour; all-purpose
1 ts Baking powder
1/2 ts Cinnamon
1/4 ts Ground nutmeg
1/3 c Unsalted butter; lite
3/4 c Brown sugar; packed
1/4 c Egg beaters 99% egg
-substitute
1/4 c Skim milk
1 ts Orange peel; grated
1 1/2 c Rolled oats
3/4 c Dried cranberries
1/4 c Walnuts; (or pecans) chopped
—for icing—
1 c Powdered sugar
1/2 ts Orange peel; grated
1/4 ts Vanilla extract
1 tb Orange juice
Mix flour, baking powder, cinnamon and nutmeg together; set aside. In a
large mixing bowl, beat butter and brown sugar 'til fluffy. Add egg, milk
and orange peel. Beat until thoroughly combined, scraping sides of bowl
often. Add flour mixture and beat until well blended. Stir in oatmeal,
dried cranberries and nuts. Drop by tablespoonsful onto cookie sheets
coated with cooking spray.
Bake at 375F for 10-12 minutes, or until lightly borwned. Cool on wire
rack. Combine all ingredients for icing; drizzle cookies with orange icing.

Yields
24 Servings