31 October, 2012
Best Ever Sugar Cookies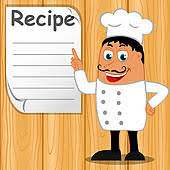 Posted in :
Cookies
on
by :
admin
Ingrients & Directions

1 c Margarine
1 c Vegetable oil
1 c Granulated sugar
1 c Powdered sugar
2 Eggs. beaten
1 ts Vanilla
4 c Flour
1 ts Cream of tartar
1 ts Baking soda
1 ts Salt
Cream margarine, oil and sugars with mixer. Add eggs and vanilla and beat
well.
In separate bowl, sift flour, cream of tartar, soda and salt together.
Add mixture to creamed mixture and blend well.
Chill dough in refrigerator a minimum of 2 hrs. Using floured rolling
pin, roll part of dough into 1/3 inch layer on floured board, keeping
remaining dough in refrigerator. Use cookie cutters to cut into desired
shapes. Put on greased cookie sheets. Repeat procedure with rest of
dough.
Bake in preheated 350 degree oven 10-12 minutes or until cookies have a
brown rim. If desired, dough can be shaped into walnut size balls and
arranged on baking sheet. Using a glass with a flat bottom, dip glass into
granulated sugar and flatten each ball. Return to sugar to dip glass bottom
again and repeat procedure on next dough ball.
From

Yields
1 Servings