30 November, 2012
Black And White Cookies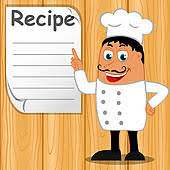 Posted in :
Cookies
on
by :
admin
Ingrients & Directions

1 3/4 c Sugar
1/2 lb Butter
4 Eggs
1 c Milk
1/2 ts Vanilla
1/4 ts Lemon Extract
2 1/2 c Cake Flour
2 1/2 c All-Purpose Flour
1 ts Baking Powder
1/2 ts Salt
FROSTING
4 c Confectioner's Sugae
1/3 c Boiling Water; (up to 1/2)
1 oz Bittersweet Chocolate
Source: Long Island Newsday
In a large mixing bowl, combine the sugar and butter until fluffy. Add
eggs, milk, vanilla and lemon extract and mix until smooth. In a medium
bowl, combine flours, baking powder and salt.
Add the dry ingredients to the wet in batches, stirring well. Drop
soupspoonful of dough 2 inches apart on greased baking sheets. Bake at 375
degrees until the edges begin to brown. 20 to 30 minutes. Let cool
completely. To make frosting, put confectioners' sugar in a bowl. Stir in
enough water to make the mixture thick and spreadable. Remove half the
frosting to the top half of of a double boiler over simmering water. Add
chocolate and warm mixture until chocolate is melted and frosting is
smooth. Remove from heat. With a brush, coat half the cookie with the
chocolate frosting and the other half with the white frosting. Makes 2
dozen large cookies.

Yields
1 Servings