31 May, 2010
Ginger Cookies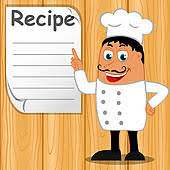 Posted in :
Cookies
on
by :
admin
Ingrients & Directions

3/4 C Butter 2 t Baking soda
1 C Sugar 1 t Ginger, ground
1/4 C Dark molasses 1 t Cinnamon, ground
1 Egg 1 t Cloves, ground
2 C Flour
Cream the butter and sugar together. Add the egg (beaten) and the
molasses.
Sift the rest of the dry ingredients together and add to the mixture. Form
into about 1-inch balls and roll in granulated sugar. Place about 2 inches
apart on a greased cookie sheet and bake at 350 degrees F. for 10 to 12
minutes.
NOTES:
* From "The Settlement Cook Book" — These have a lot of zest.
: Difficulty: easy.
: Time: 10 minutes preparation, 10 minutes cooking.
: Precision: measure the ingredients.
: Evelyn C. Leeper
: AT&T Information Systems, Middletown, New Jersey, USA
: ihnp4!mtgzy!ecl
:
Yields
4 dozen