30 April, 2011
French Fudge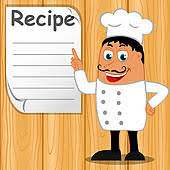 Posted in :
Fudges
on
by :
admin
Ingrients & Directions

13 oz (1) cn Skim evaporated milk;
2 tb Cornstarch;
1 tb Liquid sugar replacement;
1/2 c Chocolate chips;
3 oz Cream cheese; softened
1 1/2 ts Vanilla extract;
Combine evaporated milk, cornstarch, sugar replacement and chocolate
chips in saucepan. Cook and stir mixture is thick and chocolate
chips are melted. Whip cream cheese until light and fluffy. Beat in
chocolate/mixture. Stir in vanilla extract. Turn into buttered 8-in
square baking dish. Chill until firm. Cut into 1-in squares. Store in
refrigerator.
Food Exchange per serving: 1/4 BREAD EXCHANGE; CAL: 1 PIECE: 18;

Yields
64 Candies