30 September, 2012
Chocolate Fudge Fruitcake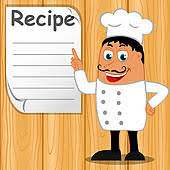 Posted in :
Fudges
on
by :
admin
Ingrients & Directions

1 c Brandy 6 Butter
1 c Pineapple chunks 1 1/2 c Sugar
-- candied 6 Eggs; separated
1/2 c Candied cherries 2 c Flour
-- halved 1 ts Baking powder
1 c Raisins 3 c Pecans; coarsely
4 1 oz unsweetened chocolate -chopped
Squares
Recipe by: 365 Great Chocolate Desserts - ISBN 0-06-016537-5
Preparation Time: 3:00
1. In a medium bowl, pour 1/2 cup brandy over pineapple chunks,
cherries, and raisins. Let stand 2 to 3 hours or overnight. Grease
two 9 x 5 x 3-inch loaf pans. Line with brown paper or parchment
paper and grease paper. Preheat oven to 250F.
2. Melt chocolate in a double boiler or in a microwave until melted
and smooth when stirred. Set aside to cool.
3. In a large bowl, beat together butter and 1 cup sugar with an
electric mixer on medium speed until light and fluffy, about 2 mins.
Beat in egg yolks, 2 at a time, beating well after each addition.
Beat in cooled chocolate until well blended.
4. Sift together flour and baking powder. Add to chocolate mixture
along with 1/4 cup brandy. Mix well. Stir in pecans and brandied
fruit mixture with its liquid.
5. In a a large bowl, beat egg whites with clean, dry beaters on high
speed until almost stiff. Gradually beat in remaining 1/2 cup sugar.
Beat until soft peaks form. Fold into chocolate batter. Turn batter
into prepared pans, dividing evenly and smoothing tops.
6. Place pans in oven. Set a shallow pan of water on a rack below
pans. Bake 2 1/2 hours (replenishing water as necessary), until a
cake tester inserted in center comes out clean. Let cakes stand 15
mins; then unmold. Pour 2 Tbs remaining brandy over each cake. Let
cool completely. Wrap cakes in plastic wrap, then overwrap in foil.
Store in refrigerator 3 to 4 weeks, sprinkling with additional brandy
2 or 3 times during aging period.

Yields
2 servings