28 February, 2013
Chocolate-coconut Cherry Creme Fudge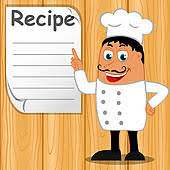 Posted in :
Fudges
on
by :
admin
Ingrients & Directions

1 cn (14 oz.) sweetened condensed
-milk (not evaporated milk)
2 tb Stick butter or margarine
-(not spread)
2/3 c (4 oz.) vanilla chips
2 c (12 oz.) semisweet chocolate
-chips
1/2 c Dried pitted tart cherries;
-chopped
1/2 c Sweetened shredded coconut
From: Chris Susalski DntlQueen@AOL.COM
Date: Wed, 17 Jul 1996 01:39:08 -0400
Here's some I got out of the Nov 1, 1995 issue of Woman's Day, "Fabulous
Food Gifts." I've got many more if you like what's there so far. Hope
this is what you're looking for. Ho ho ho!
🙂
1. Line a 9 inch square pain with foil, letting foil extend above pan on 2
sides.
2. Stir milk and butter in medium-size saucepan over low heat until butter
melts. Measure 1/3 cup into a small bowl, add vanilla chips and stir until
melted. Stir in cherries. Add chocolate chips to mixture in saucepan;
stir until melted, returning to heat if necessary.
3. Using half the vanilla mixture, drop small teaspoonfuls into prepared
pan, leaving spaces between each. Sprinkle with half the coconut. Spread
chocolate mixture evenly on top, then spoon on remaining vanilla mixture.
Sprinkle with remaining coconut. Refrigerate at least 8 hours until firm
enough to cut.
4. Lift foil by ends to cutting board. Cut fudge in 1-inch squares. Store
airtight with waxed paper between layers.
Butterscotch Crunch variation: Proceed through Steps 1 and 2, substituting
2/3 cup butterscotch chips for the vanilla chips and 1 cup thin chow-mein
noodles for the dried cherries. Continue through Step 3, substituting
butterscotch mixture for vanilla mixture. Sprinkle with 1/4 cup coarsely
chopped salted mixed nuts (in place of the coconut). Spread with chocolate
mixture; sprinkle with another 1/4 cup coarsely chopped salted mixed nuts.
Proceed through Step 4.
EAT-L Digest 16 July 96
From the EAT-L recipe list. Downloaded from Glen's MM Recipe Archive,

Yields
81 Servings