25 August, 2013
Fudge Ice Cream #2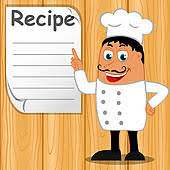 Posted in :
Fudges
on
by :
admin
Ingrients & Directions

3 c Heavy (or whipping)cream
1 c Milk
1/2 c Granulated sugar
4 lg Egg yolks
12 oz Best-quality bittersweet
-chocolate; broken into
-small pieces
From: Janice D Seals DianeTN5@AOL.COM
Date: Thu, 4 Jul 1996 11:08:12 -0400
This devilishly rich ice cream is so wickedly good, you won't be able to
stop eating it. it's also fabulous atop a brownie (for a double dose of
chocolate), dolloped with whipped cream, in a milkshake, an ice cream
soda--or served on its own! For the best flavor, use bittersweet chocolate
(don't worry--it doesn't taste bitter.)
Combine the cream, milk and sugar in a heavy saucepan over medium heat,
Cook until the milk is hot but not boiling and the sugar is dissolved,
about 10 minutes, Remove from heat.
Place the egg yolks in a small bowl and whisk to blend. Whisking
constantly, slowly poor 1 cup of the hot milk mixture into the eggs and
continue to whisk until smooth. Slowly pour the egg mixture back into the
saucepan, whisking constantly until well combined, Place the saucepan over
medium heat and stir the mixture constantly until it is thick enough to
coat the back of a spoon 6 to 8 minutes. The mixture should never boil.
Place the chocolate in a large heavy saucepan over very low heat until just
melted, stirring until smooth.
Strain the ice cream mixture into the melted chocolate, whisking until
completely combined. Cool to room temperature. Freeze in an ice cream maker
according to the manufacturer's instructions. Makes 5 cups.
EAT-L Digest 3 July 96
From the EAT-L recipe list. Downloaded from Glen's MM Recipe Archive,

Yields
6 Servings