28 August, 2013
Fudge Krispies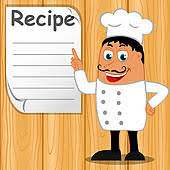 Posted in :
Fudges
on
by :
admin
Tags:
fudge krispies
,
fudge krispies recipe
,
krispies
Ingrients & Directions

2 c Chocolate chips
1/3 c Margarine
1/2 c Light corn syrup
2 ts Vanilla extract
1 c Confectioners sugar
4 c Rice krispies cereal
COMBINE CHOCOLATE, MARGARINE AND CORN SYRUP IN MEDIUM SAUCEPAN WITH SILVER-
STONE. STIR OVER LOW HEAT UNTIL MELTED AND SMOOTH. REMOVE FROM HEAT . STIR
IN VANILLA EXTRACT AND SUGAR. ADD RICE KRISPIES MIXING LIGHTLY UNTIL
COATED. SPREAD EVENLY IN 13X9 X2 PAN . CHILL UNTIL FIRM. CUT INTO 1 1/2
INCH SQUARES. STORE IN REFRIGERATOR. MAKES 48 SQUARES.
From

Yields
10 Servings