1 December, 2013
Fudge Loaf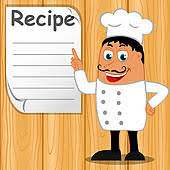 Posted in :
Fudges
on
by :
admin
Tags:
fudge loaf
,
fudge loaf recipe
Ingrients & Directions

1 c Butter or margarine
2 c Sugar
5 Eggs
2 Squares unsweetened
-chocolate, melted
2 1/2 c Flour
1 ts Baking soda
1 c Buttermilk
1/2 c Chopped pecans
Preheat oven to 325 degrees. Cream butter and sugar. Add eggs; beat well.
Add melted chocolate. Sift flour and baking soda together. Add to chocolate
mixture alternately with buttermilk. Sprinkle with pecans. Pour batter into
a greased 0x5 inch loaf pan. Bake for 1 hour. Makes 1 loaf.

Yields
1 Servings