30 April, 2010
Hot Fudge Sauce – (4)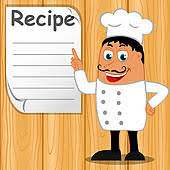 Posted in :
Fudges
on
by :
admin
Ingrients & Directions

1 cn (14 Oz) Sweetened Condensed
-Milk
1 1/2 Squares (1 Oz Squares)
-Unsweetened Chocolate
1/4 c Water
1 ts Vanilla
Combine all except vanilla in saucepan. Stir over medium heat until
boiling. Simmer several minutes until smooth and thickened, stirring
constantly. Remove from heat. Add the vanilla
Serving Ideas : Delicious served on ice cream or cake.

Yields
1 Servings