28 February, 2011
Cranberry Fudge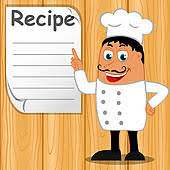 Posted in :
Fudges
on
by :
admin
Ingrients & Directions

1 1/4 c Cranberries 1/2 c Powdered sugar
1/2 c Corn syrup, light 1/4 c Evaporated milk
2 c Chocolate chips 1 ts Vanilla
Line bottom and sides of 8x8-inch pan with plastic wrap.
In a medium saucepan on high heat, bring cranberries and corn syrup
to a boil. Boil 5-7 min, stirring occasionally, until the liquid has
been reduced to 3 tablespoons.
Remove from heat and immediately add the chocolate chips, stirring
until completely melted. Add remaining ingredients and stir
vigorously until mixture is thick and glossy.
Pour into pan lined with plastic wrap. Cover and chill until firm.
Cut into 1 1/2-inch squares. Store covered in refrigerator.
from: The Daily Herald, 11/1/94

Yields
25 pieces