24 February, 2012
Peanut Butter Fudge Cake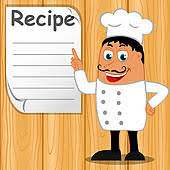 Posted in :
Fudges
on
by :
admin
Ingrients & Directions

-BATTER-
1 c Butter or margarine
1/4 c Cocoa
1/ c water
1/2 c Buttermilk
2 Eggs; well beaten
2 c Sugar
2 c Unsifted flour
1 ts Baking soda
1 ts Vanilla
1 1/2 c Smooth peanut butter
-ICING-
1/2 c Butter or margarine
1/4 c Cocoa
6 tb Buttermilk
1 lb Confectioners sugar
1 ts Vanilla
Notes: 1990 Finalist. Mary Santore, Nesquehoning. The Times, PA.
Batter: In saucepan combine butter, cocoa, water, buttermilk and eggs. Stir
constantly over low heat until mixture bubbles.
In a large bowl mix sugar, flour and baking soda. Stir hot mixture into dry
ingredients. Beat until smooth. Stir in vanilla.
Pour mixture evenly into a greased and floured 9x13" baking pan. Bake at
350 for 25 minutes or until firm to the touch in center.
Cool cake in pan until cold. Spread peanut butter evenly over cooled cake.
ICING: In a saucepan heat butter, cocoa and buttermilk until bubbly.
Place confectioners sugar in large bowl. Beat in hot mixture. Beat until
smooth. Spread mixture evenly over peanut butter topping.

Yields
1 Servings